Round Top Texas Antiques Fair
Written on May 27, 2017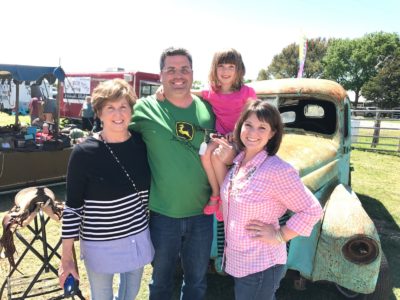 This March, Craig and I took Autumn, our 5 year old and my in-laws to Round Top, Texas for their 49th annual Spring Antiques Fair. Wow! Was I blown away by the sheer size of the event and the uniqueness of the antiques we saw there.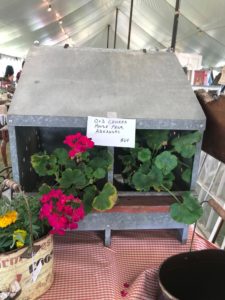 I first heard about Round Top, TX from a Pinterest post about The Vintage Round Top, an adorable modern farmhouse style vacation home and mercantile store with the slogan "Live with Intention". I've been a loyal newsletter follower for years. When they sent out an invitation to their B usiness Branding and Social Media marke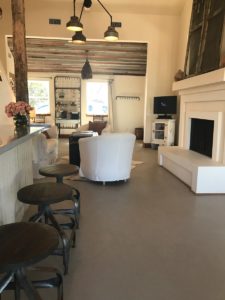 ting workshop, I just about died. This was it – the perfect excuse to finally go see this town everyone has been talking about.
Before going I read a blog www.tellittoyourneighbor.com that suggested going the weekend before to get the very best pickins' (my word, not hers). This was sound advice since more-than-plenty vendors were already set up with giant tents all along the road for miles and miles. There really were no crowds and I really felt like we didn't miss a thing. No way we could have seen all that was there anyway.
Our first stop was Friday night at Volare Italian Restaurant based on their high trip advisor rating. It was a quaint old farmhouse home with a huge masonry fireplace and antique wooden tables and chairs. It looked like it stepped out of old Italy but also had a New England feel. I had the manicotti but my mother-in-law had the fettuccini alfredo and after tasting it, we determined hers was the best. We also checked out the other guests at the tables. Many were groups of girlfriends in jean shorts and boots, exotic Interior Designer types with dramatic jewelry and tons of makeup and I swear I spotted an HGTV celeb. It was obvious they were all in town for the pre-show as well.
The next morning I visited the Vintage Round Top for the workshop. Owners Smoot and Paige Hull renovated an old farmhouse in 2012 into a quaint lodge with 2 bedrooms, a sunroom and open farm kitchen. They named it No. 1450 and furnished it with clean lines and local vintage décor.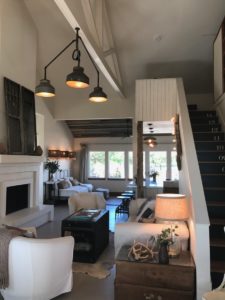 It's a perfect space for a girls weekend, honeymoon or trip to the spring antiques show (if you can book it that far in advance). They also unveiled their newest project, "The Boho". This new lodge is attached to No. 1450 but can be closed off for private groups as well. They said they'd been busy all week scurrying to compete the home (it still had the paper blinds in the windows) to be ready for our workshop and for a magazine photo shoot directly afterwards.
The Boho is a single story home with 2 bedrooms, 2 bathrooms, a large living space with 2 private relaxing nooks and an outdoor private deck. A huge beautifully destressed antique barn door closes off the master bedroom and the kitchen island is an old round farm table. I was specifically impressed by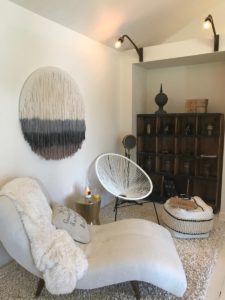 the contradiction of the modern style sleek black cast stone fireplace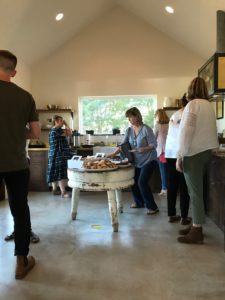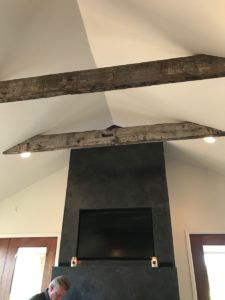 and faux concrete master bathroom countertops that were very modern in style. As a matter of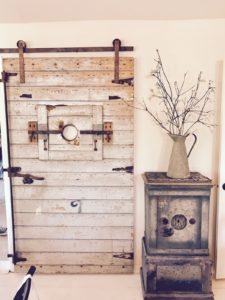 fact the entire master bathroom seemed very modern – not cold and stark – but a good contrast to keep the home from anything but shabby chic.
The crossbeams in the vaulted ceiling were obviously old barn wood – perfectly worn.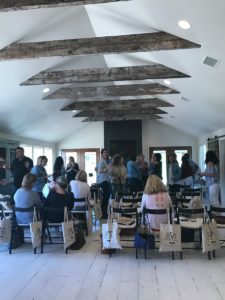 The wood floors were painted a light cream color and distressed. They looked like they'd been there for years.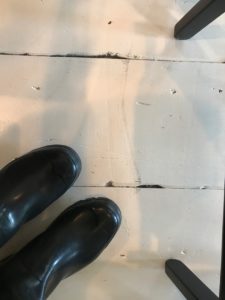 (Photo saved for future dream home ideas). I immediately sent about 100 photos to Craig saying "We've got to start adding this to our homes!".
After the workshop I joined Craig, Autumn and my in-laws for a few hours of picking at the antiques show. My mother-in-law is hands-down the most creative decorator using old farm tools and equipment – the rustier the better.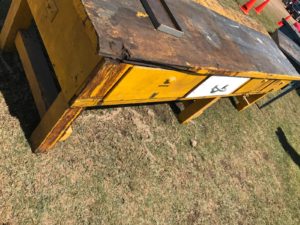 She can turn a chicken feeder into a succulent stand, a tractor spring into a flower vase and just about anything into a light fixture. It's always so much fun imagining new uses for all the old "junk" that most farmers would toss away.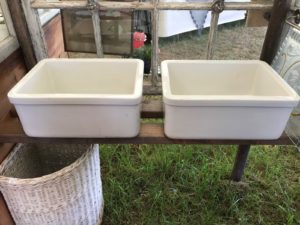 I'm pretty sure a future OklaMercantile store will be in our future after this trip. It's sort of hard not to turn into a walking, shopping good-deal zombie.
My favorite find was two sets of fan blades – half of an old windmill. This had been my #1 request to complete the other half she had found for our office. Craig negotiated a great deal at only $75 each (we paid $200 each back at home).
If only we were in the middle of building our new barn/office and/or our modern farmhouse we'd be able to easily furnish the entire home with vintage farm antiques in one weekend easily at the show. It's a great place for custom farm tables, wire light fixtures, unique art work, furniture and odds and ends galore. Autumn had a blast finding "treasures" and each of the shop owners spent extra special attention to her – another reason it's probably good to go before the crowds while everyone was on a high to start the show.
I had read in the blog that wearing mud boots wouldn't be a bad idea. Since it had poured the day before, the gr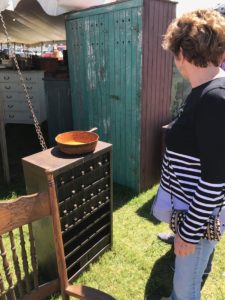 ound was still pretty mushy so I was glad I did. It was also fun seeing all the funky country designer outfits around. It looked like a CMA fashion show for the most part.
On our way out of town we zoomed past a sm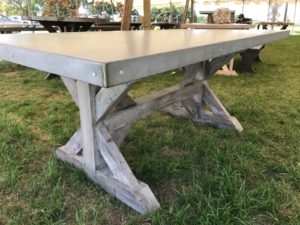 all singular junk stand on the side of the road about 4 miles out of town. Normally I wouldn't think twice about such a stand but my father-in-law pointed out the vintage tractor sitting out in front so we did a U-turn and had to go take a look. This stop was the best kept secret of the weekend. Here we found the deals. I picked up an old ice-box cabinet with perfectly peeling paint and a painted metal top for only $40. It'll look great on my front porch between the two rocking chairs. Clara found several farm pulleys for $20, an old toolbox in a perfect navy paint color for $1 and several other odds and ends for pennies.
Round Top Texas was quite a place. One I'd highly recommend. My best advice would be to plan ahead. There were dozens if not hundreds of quaint New England style cottage bed and breakfasts there but we couldn't find a single one on the entire city that would allow kids so we had to stay at a disappointing Best Western. I'm sure there are cute places to stay with kids but I'm also sure they get booked up the year before.
Also plan to spend several days if not a full weekend or even week there. Bring a truck. Maybe a Uhaul. The amount of shops is overwhelming.
Shop around a bit before you buy. It seemed to me that prices varied quite a bit. Some shops had sky high prices that seemed ridiculous ($450 for a framed FARMHOUSE sign I could either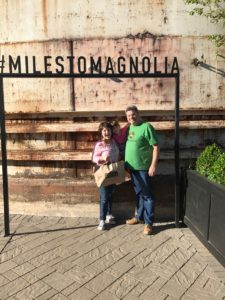 make myself or buy at Hobby Lobby) and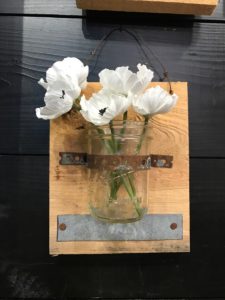 others seemed more reasonable ($150 for a cow skin rug and $40 for custom made linen pillows).
Finally split the travel time up. It took us easily 12 hours to get there with stops. With a 5 year old in the car, we were beyond exhausted upon our arrival. On the way back we stayed in Dallas at the Cooper Hotel and Spa,
Cost Plus World Market and IKEA so that made the return trip a much better experience.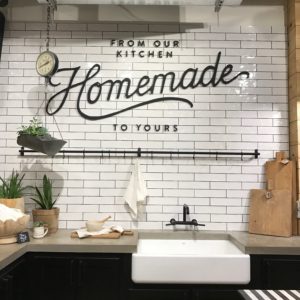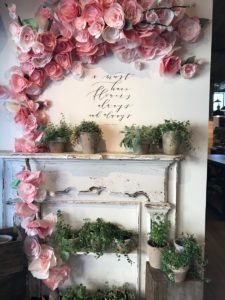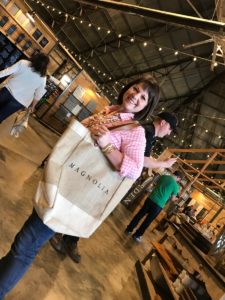 Overall, a huge thumbs up for Round Top, TX. Go this time of year, go right before the show, plan ahead and bring a creative friend or family member. You'll come back home full of ideas and inspiration, plus a rusty bucket or two.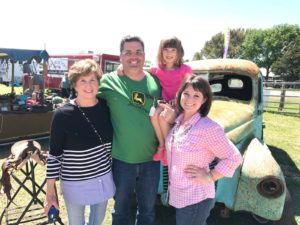 For more information, visit http://www.thevintageroundtop.com/guide-to-round-top-antiques-week/
Also check out these vendors who helped collaborate at the workshop. Their businesses, design services, photography and merchandise are amazing. Follow them on Instagram and Pinterest for sure!
@tippystockton
@quotabelle
@cachechic
@texasmonthly
@curiousdetails
@hunter_lawrence
@artifactuprising
@manreadymerc
@debilynndesigns
@goingtoroundtop
@royerspiehaven
@stashstyle
@takonasoapery
@twosparrowsroasting
@thegardencoandcafe