Craig oversees the construction and finance team at OklaHome. With over 20 years of formal experience in residential building and remodeling, Craig has actually been building since he was a kid working on a cattle farm in Stroud, OK alongside his mentor, best friend and Grandfather – a soil conservationist who taught Craig about land productivity. He specialized in large remodels for several years and then began custom building homes full time with OklaHome in 2013. Having attended OSU studying mechanical engineering, Craig understands the functionality of complicated construction materials and processes. Craig also has 10 years of formal experience in financing. Starting out as a salesperson for Bob Howard he quickly moved up the ranks to Sales Manager and then Finance Manager. He was the youngest person ever to hold the position as Chief Finance Manager for all of the Group One automotive properties. His job was to step into failing dealerships and do the hard work to turn them around to being profitable businesses. Craig handles all construction loans for our custom homes, manages the Superintendents and oversees the financial department.
Jennifer leads our marketing department and oversees the OklaHome real estate team. She has over 20 years' experience selling over $200 million (around 1500 homes) in new homes in the OKC metro. While obtaining her marketing degree at OU, she interned at Ideal Homes (at the time the largest builder in the state) and then promoted to Senior New Home Consultant. Then for 10 years she was the Sales and Marketing Manager for McCaleb Homes. Jennifer and Craig married in a model home (yes, at work) in 2008. Originally from Ponca City, she spent several years living in San Francisco and in Massachusetts as a wedding consultant after college. Her experiences as a wedding planner (think emergency taffeta situations and runaway brides) helped prepare her for life as a Realtor – especially when helping families navigate through the custom building process and celebrating life's big milestone events.
David leads the construction department managing the Construction Superintendents and being on-site with our largest projects. He coordinates budget-making with Craig and sources and manages trade contractors. David has a long background in construction and owned and operated his own construction company for years. Raising 3 kids in Deer Creek schools, he has deep roots in Edmond. David brings experience, leadership and organizational skills to the team.
You'll never have a bad time when Kaylee's around! Kaylee started out as our team's "Chaos Coordinator" doing the behind-the-scenes paperwork-shuffle keeping all of our contracts in order, promoted up to Buyer's Agent and now leads our full Realtor team. Graduating from the University of Central Oklahoma with a minor in real estate and coming from parents who have been in the business, she already has real estate in her blood. Also having an extensive background as an event planner at The Greens and Kickingbird Golf Clubs (where she met her husband who is a real-life golf pro) only makes her an even better Realtor because she understands that investing in a new home isn't just about the house – it's a huge life event – and one to be celebrated. Kaylee has lived in Oklahoma her entire life and has truly never met a stranger. If you're worried about the unknowns in the home-buying process, don't be! With Kaylee by your side you'll have the perfect guide each step of the way.
Since we build only 100% custom homes, we have never built the same home twice. Harold spends weeks and often months designing homes around each client's lifestyle. Making design meetings a fun experience, Harold uses architectural program Chief Architect to give a fly-through 3D view at each meeting. Clients love to be deeply involved in the design process as Harold "builds" the home right in front of them. Craig joins in with his construction knowledge and a beautiful home is designed as unique as the clients we build for. Harold graduated from the University of Oklahoma College of Architecture with a bachelors in interior design and has over a decade of experience working for design firms before joining OklaHome.
Sarah is a self-taught designer who discovered her love of design by renovating and decorating her family's first home as newlyweds.  She began helping friends and family and took a leap of faith to turn a hobby into a career.  Highly recommended to us by clients (homeowners of #MustangMoonshine) Sarah wowed us from day one and for years our clients have loved working with her so much selecting paint, lighting, hardware etc that many have continued her services after move-in for furniture selection and design.  Sarah loves the process of new construction.  Getting to design and pray over a home for a future family has been one of the most rewarding parts of her job.  Sarah's design philosophy is that a beautiful design can also be functional and a true reflection of a family's character.
Brittany is a seasoned Realtor and Oklahoma native who has resided in Edmond with her husband and children for over a decade. This gives her intimate knowledge of the area and the strong desire to make her home, your home. She's spent years excelling in the competitive landscape of Oklahoma City real estate, establishing a reputation as a well-respected and innovative Realtor. Her experience learning to adjust to life as a military wife has given her a unique focus, drive, and attention to help families in the relocation process.
Her goal is to create the connection and feeling of community even from states away while navigating through the emotional rollercoaster of buying a home. Being a proactive member of the real estate market is crucial in this ever-changing market. Her business is built on communication, dedication, and transparency. These characteristics aid in helping her give her clients the friendly but brutal and honest truth when discrepancies arise.
When she's not helping her clients with business, you can find her at the softball fields cheering on her girls or camping with her family and dogs.
Leveraging her experience as a former successful small business owner and real estate investor. Chantelle was born and raised in San Diego, CA and also spent a good amount of time living in Central Michigan, and San Antonio Texas before settling her family of four in Edmond Oklahoma.
Over several long distance moves she developed a true passion for Real Estate and discovering the value in each of the states she was lucky enough to call home.
She believes strongly that it's not only her duty to represent her clients to the best of her ability, but also to educate them through out every step of the process armed with top notch information, a local professional network and market insight she aim's to exceed all expectations so that her clients make the best educated decisions as possible. She is honest, hardworking and extremely knowledgeable about the real estate industry having worked with top agents across the country.
Memrie has always been the type of person to go above and beyond for the people she cares about and real estate is very much just that. Her favorite thing about being on a team is that we all have different areas that we excel in and we all fit like puzzle pieces. Where one might lack information another will be there to inform which makes for a very strong team. A few fun facts: When she was little she wanted to be a wedding planner. Her strongest skills are her work ethic, leadership and understanding the ins and outs of social media and online marketing. Her favorite food is anything her nana cooks (specifically her enchiladas and banana pudding). Her pet peeve is the way she thinks she HAS to have a new outfit for every event. Very unfortunate for her lack of closet space. But, really is that a negative?! Memrie is very family oriented and the oldest of four. She would be lost without her plants! When one dies she takes it way too personally.
Amanda Brewer is a born and raised red dirt okie. She has spent time living in different areas of the state enjoying all the recreation and beauty Oklahoma has to offer – making her suited in providing you with a unique perspective of the state. Her energetic approach to real estate allows her to provide a high level of customer service to each and every client.
Amanda has earned real life experience in customer service, sales, marketing, legal agreements, as well as a successful small business owner. Coupled with a genuine love for real estate and her home state of Oklahoma, she is very excited to help real estate buyers and sellers accomplish homeownership.
Want an easy conversation starter with Amanda? Here are some suggested topics, Diet Mt. Dew, fashion, social media, wine, chocolate, and of course, real estate!
Two decades of corporate leadership and market analysis have set a strong foundation for assisting clients with their commercial needs. Jesse enjoys the challenge of drilling down to find concise, timely data that companies can use to make informed decisions about taking the next step in growing their business. Having lived in 3 states and gone through 2 corporate relocations with his own family gives him unique insights and empathy for others who are going through a similar process with their residential home search. "Through our journey, my wife and I have bought, fixed, flipped, held and rented out several properties. When it comes to ROI, location, construction & design, and all other aspects of Real Estate, we are most definitely NERDS! Whether you think you are ready now or just want find out more, let's get the conversation started."
Born and raised in Arlington, TX, Shelby attended University of Texas at Arlington where earning a BA in Business and Hospitality Management. Afterwards she worked for Costco, Wholesale for over 16 years holding several positions within the company. Her passion for real estate developed from the buying and selling of her personal homes. She has two beautiful daughters that are her why. Her oldest is a competitive gymnast and youngest is a dancer.
She has a strong work ethic, is a great multi-tasker, and is able to stay organized in a fast-paced environment. Throughout her career at Costco she developed great customer service skills always enjoying helping members and giving the best service to them as possible.
Fun fact, Shelby also has an associate's degree in Culinary Arts so if you ever crave desserts, she's your girl!
Born and raised in Oklahoma, Zack constantly disassembled virtually all things electrical and mechanical from a young age, much to the apprehension of his parents. Apparently early-age tinkering set the stage for a career in construction, finally putting things back together. From his teens, Zack worked as a home framer, a trim carpenter and many other construction trades learning the importance of quality work, scheduling, organization and accountability. A passion for hard work and reward, he then "roughnecked" in the Oklahoma oilfields for 4 years, moving quickly through drilling rig ranks to Derrick Man and Driller Trainee. Personal injury caused him to retire and pursue a degree in Health, Safety and Environmental studies from the University of Central Oklahoma, at which he excelled. He loves Family, friends, the lake, golf, pool and skiing. Don't let his calm demeanor and easy laugh fool you, he is articulate, motivated, very creative, with a passion for excellence.
Growing up in Midwest City, Austen has been interested in construction his whole life. Mowing yards in high school taught him great work ethic leading to his first "real" job as a travelling commercial HVAC tech. After that he worked for 5 years in construction for a local homebuilder. Austen loves anything outdoors like hunting and is a total gun enthusiast. He's skilled in carpentry and makes beautiful cutting boards, custom cabinets and even a few pieces of furniture. Austen loves his German Shepard, Onna and fun fact…he's left handed!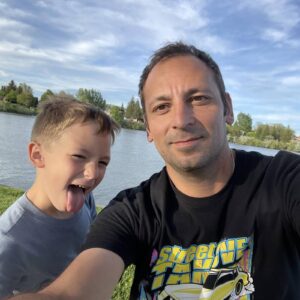 Matias Seculini
Jack-of-all-trades
Matias is from Cordoba, Argentina and moved to America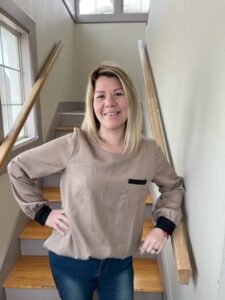 Angie DeLara
Office Manager/Accounting
Angie is the center of our whole operation. She manages the books for OklaHome and makes sure every receipt is allocated to the correct job. OklaHome builds on a cost-plus basis so this position is crucial. Angie also handles payroll for our team members and for trade contractors.