Carlton Landing
Written on Jun 22, 2014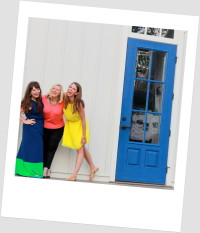 A few weeks ago two of my girlfriends and I took our annual "busy-moms" getaway trip to a magical place called Carlton Landing.  Only a 2 ½ hour drive from Edmond near Lake Eufaula, we cut out of work a bit early on a Friday afternoon and rolled in just in time for sunset.  What started out as normal frazzled and overly scheduled business working day ended with surprising relaxation and refreshing simplicity.  As soon as you pull into the farmhouse-lined streets of Carlton Landing a sweet sense of "ahhh" un-creases the stress lines in your forehead and sets your mind at ease.
It's hard to imagine.  Like the feeling you had when you were 9 on the first day of summer, laying in the green grass feeling free for the rest of time.  Like the happily joyful laugh of a child without a care in the world.  It's falling back in time when life had yet to fill you with demands, business and stress.  It's a refreshing step out of your everyday world.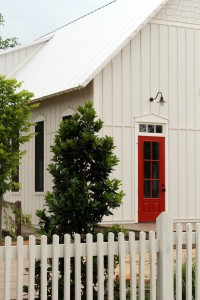 Carlton Landing was started by the Humphreys family and other friends only a few years ago to encourage family time, quiet rest and simple relaxation.  Downtime with friends and family.  The early American cottage style design features large front porches and screened patios with outdoor fireplaces designed for meeting your neighbors.  The clapboard siding and corrugated steel roofs remind visitors of living down on the farm.  Wide streets with tree-lined boulevards subconsciously give a picturesque dreamy painting view around each turn.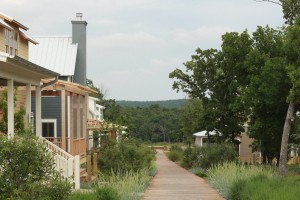 As you pull into Carlton Landing off the highway, a stone steeple and welcome sign encourage you toward a mile-long street winding through a deep, dark forest.  This road seems to go on forever and feels like it's pulling you into a magic place.  Small welcome home signs line the street as if the community has been expecting you.  In those deep trees, your baggage is left behind and a slower pace of life is offered in its place.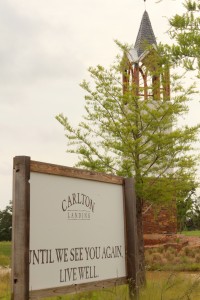 Many of the boulevards in Carlton Landing are built to keep street traffic off of the roads between the houses so that kids can play freely.  Parking is designated to alleys behind the homes.  Community bicycles line the racks in front of the main meeting house and tossed in front of home front porches where kids hurriedly tousled inside.  Strolling the streets of Carlton Landing, you'll watch children actually playing outside with friends, teens riding to a shaded tree to read a book and couples strolling hand-in-hand on an after-dinner walk.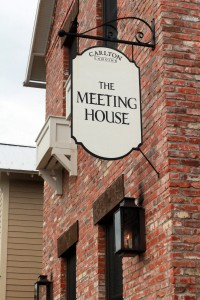 The first building you'll visit at Carlton Landing will likely be the brick meeting house poised in the center of the town.  Standing out amongst the other clapboard siding homes, this building is covered in worn, vintage small queen red bricks, flower boxes under every window and a large wooden wide stepped porch.  Teak rocking chairs and flickering gas lanterns beg you to sit and stay awhile and take it all in.  A small courtyard with gas heaters, white umbrella tables and string lights offer a gathering place for groups or small events.  Scattered on the rack in front of the building are community bicycles with baskets, ready for the taking.  Soft music plays all around as if from the trees themselves and fireflies dance there all night long.
Friday night was dark and quiet around the sleepy community this weekend.  Families seemed to eat dinner privately in their homes, sit on the porches awhile and retire early.  I soaked in a giant claw-footed tub, read a bit and slept soundly too.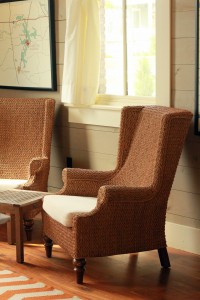 Saturday morning the sun streamed in through the white cotton curtains lining the wooden casement windows.  Early summertime, the weather was light and breezy and I took the opportunity to leave the bedroom window open all night long.  Sounds of chatter outside woke me up early.  I opened the curtain to see two farm trucks pulling up next to the meeting house and a couple setting up a make-shift stand and banner.  I grabbed a book and hurried downstairs to take it all in.  Perched in an Adirondack chair, I watched the Carlton Landing weekend morning routine take place.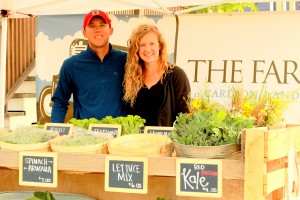 There I met Brent and Megan Halderman, the local farmer couple who recently started the new Farm at Carlton Landing looking very young and fresh faced, like they were living their dream.  Transforming several acres at the front of the community just past the welcoming forest into an organic vegetable and fruit farm, the young couple set up their own farmers market here each weekend.  The market stand offered fresh lettuce, kale and even hand-picked wildflower bouquets.  Straw baskets brimming with leaf topped carrots, round red radishes and the greenest lettuce you've ever seen sat alongside the stand.  These baskets were part of a new program called Community Supported Agriculture ("CSA") giving locals the opportunity to help support the farm and enjoy their own basket full of fresh produce delivered each week.  Recipes such as "fresh veggie frittata" are printed inside the local paper "Porch and Breeze" offering preparation suggestions for healthy fruit and vege packed meals.  The farm also provides educational programs for the students at Carlton Landing Academy to learn about sustainability with hands-on experience raising farm animals and organically caring for crops.  Every mom wants to enrich their children's lives with this experience and every kid out there can't wait to get their hands dirty.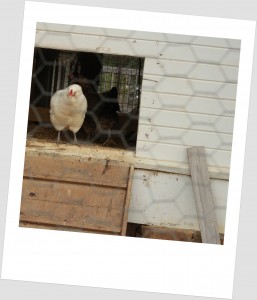 "Good morning!" I was welcomed with a chirpy salutation from Steve Winners, Carlton Landing's sales manager/neighbor as he strolled across the street from his own home and stepped into the meeting house to open up shop for the day.  His bright and cheery demeanor reminds me of a Burl Ives character in an old Haley Mills movie.  Slow paced, jolly and whistling a song.  I asked Steve where the best place to grab breakfast would be.  He said Carlton Landing had plans to open several restaurants in the future right in town but for now the best spot is a fantastic greasy spoon just a few minute's drive away.  He was right.  This old-time diner was obviously a local favorite, complete with duct taped booth seating, waitresses wearing aprons and the pancakes that stretch over the sides of the plate.  Stuffed and ready to tour the pretty little town, we moseyed on back.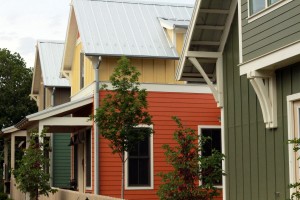 Back at the meeting house, we asked Steve to teach us a little about the town and the idea that sparked such a creation.  He began at the beginning with the short history lesson of the young community.  Inspired by two sister communities, Seaside Florida and Rosemary Beach, Carlton Landing was designed as a master planned mixed use community.  With a total of 950 acres, currently 55 acres make up the first phase being sold today.  70% of the owners are weekenders and enjoy the special services such as lawn maintenance, linen service and property management the community provides.  The other full-timers enroll their kids at the local Carlton Landing Academy, the local tuition-free magnet school offering grades K-9 or retire to a permanent, slower pace of life where the grandkids love to come visit.  Smaller lot sizes like our great grandparents had are popular as many homeowners choose to escape the time intensive lawn care chore and instead prefer to spend time getting to know their neighbors.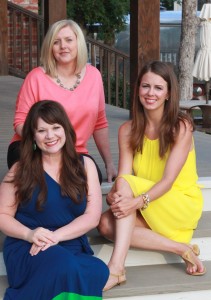 Carlton Landing famously provides creatively fun amenities and events for families to enjoy as well.  From the boardwalk pool, to the community garden and chicken coop and the fishing dock and boat club, every family member from 2 to 92 can find something fun to do year round.  The Porch and Breeze, local newspaper and highly involved Facebook page advertises frequent special events such as Memorial Day cookouts, Independence Day parades and Harvest farm cooking classes.  These special events honor family time as celebration time and give busy city-dwellers an excuse to come back for the festivities.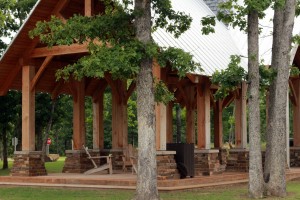 Towards the end of our visit we took one last stroll down the boardwalks of Carlton Landing each picking out our favorite home and dreaming of bringing our kids back to see the chickens, fish in the lake or to just play and laugh outside till dark.  As we stood across the street from our designated "favorite-of-all", a young mom dressed in a knee-length white lace dress and leather cowboy boots and her kids came pouring out of the side porch door.  The mom shuffled her kids into the car but then looked up and noticed us standing on the sidewalk gawking up at her two-story home.  "Hi!, I'm Jen.  Are you guys new around here?", she smilingly chirped.  Taken aback at her friendliness, we stuttered something awkward about how awesome we thought her home was.  She walked across the street, introduced herself and said "We're headed out to church, but the doors open.  Go on in and have a look around!"  Again, our mouths dropped open.  She just invited us into her house with no "stranger-danger" worries or apologies about the messy rooms or unwashed dishes.  I'd never have the guts, the friendliness nor the time…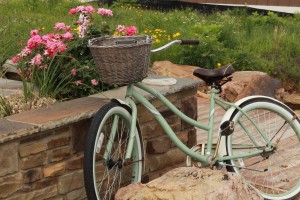 Inside we saw the true Carlton Landing life.  Freshly baked, half eaten homemade cinnamon rolls, muddy red galoshes on the front porch, framed pre-school fingerpaintings hanging in the front entryway, a dog leash hung by the back screened patio door and a family game of checkers laying by the fireplace.  No TV, no video games, no cell phones, no stress.  I'm sure their family is no different than yours or mine.  I'm sure they have bills and smart-alecky kids and arguments sometimes.  But the difference is they made a conscious choice to spend time together in a quiet place where memories are born and nurtured and to build a community with their neighbors in the midst of it.  That place is called Carlton Landing.
 It's more than a place.  It's a feeling.